That time of year is nearly here; Christmas mini sessions are here!  Feature your family on this year's Christmas cards with a gorgeous tree farm backdrop!
If you want in on these, please don't delay, as there are ONLY 10 spots available on the date I've chosen.  If, and only if this first date fills up, I will consider (no promises) opening up a second round to take place on Sunday, October 28th.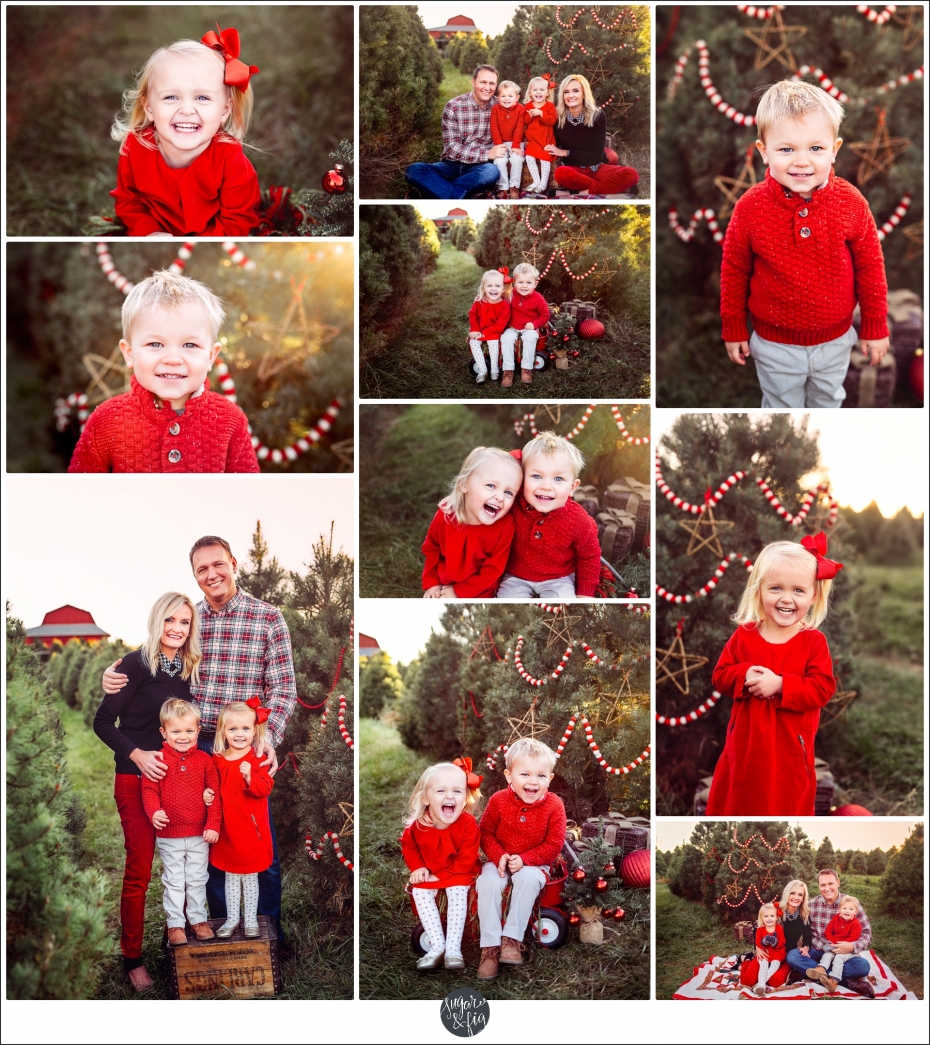 WHEN:
Sunday, November 4th
Keep in mind this is Daylight Savings Time End, so set your clocks BACK one hour at 2 AM on this date.
*Your exact time slot will be determined and confirmed after you book.*
Time slots will range from 12:40 to 4:30 pm and will be scheduled in 25 minute increments.
Slot times will be chosen via email by the purchaser in order of purchase.
For example, if you are the first to purchase, you have first dibs on the time start.  If you are the last purchaser, you get the last spot available.
This is the easiest way to assign slots while offering packages at two different price points and using the PayPal "Buy Now" button for you to book.
WHERE:
These will take place at a privately owned tree farm in Wright City, MO 63390.  The exact address and name of farm will be provided upon booking.
SETUP OPTIONS:
There are three setups to choose from:
~ Limited edition life size hot cocoa stand custom made of red cedar with tree farm backdrop
~ Burgundy sofa with tree farm backdrop
~ Simplistic tree farm backdrop (no large props)
*See photos of cocoa stand and sofa at the end of this post.*
*Sample photos of the stand and sofa in use will be posted once ready in about 2 weeks.  I haven't had a chance to take any just yet!*
DETAILS:
15 minutes of shoot time
Choice of one set, two sets, OR all, IF time allows
Choice of digital image package
These can be for children only or your family (up to 2 adults & 3 children).  Additional persons are $25 each.
TURNAROUND:
Proofing galleries, where you will view and choose your favorite images, will be available by 11/20.
Fully retouched galleries of chosen images will be available for digital download by 12/04.
INCLEMENT WEATHER/NO REFUNDS:
The reschedule date due to rain, (which I'm really hoping isn't necessary!) will be on Sunday, November 11th.  If for any exceptional reason you cannot make it to your session on either the original date or the backup date, a credit in the amount you paid will be issued to be used toward a future service with Sugar & Fig Photographs in 2019.  NO monetary refunds will be issued.
CONTRACT/INFO FORM:
A simple contract will be sent for you to fill out/ sign prior to your session.  This must be signed and received prior to the session date.  It will also ask important info such as your set choice, names of children, age, gender, and if parents plan to be in the photos.
INVESTMENT:
Your choice of one of the following packages:
Photographer's time, talent, & styling + 6 high resolution digital images + unlimited print release ~ 300
Photographer's time, talent, & styling + 12 high resolution digital images + unlimited print release ~ 400
There will be an option to purchase additional images post session for 25 each or 150 per 8 photos.
Use the blue drop down arrow below to choose your package:
Please inquire with me via email at sugarandfigphotographs@gmail.com about any questions you may have!



SaveSaveSaveSave
SaveSaveSaveSave
SaveSaveSaveSave
SaveSave
SaveSave
SaveSave
SaveSave
SaveSave
SaveSaveSaveSave
SaveSave
SaveSave
SaveSave
SaveSave
SaveSave
SaveSave
SaveSave
SaveSave
SaveSave
SaveSave
SaveSave
SaveSave
SaveSave